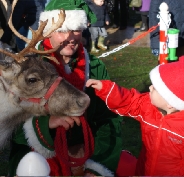 Hire reindeer throughout the UK with teams of 2,4,6,8 or more reindeer for Christmas events and parties. Please see our Willow Brook Reindeer hire website for details.
Make your Christmas event a Magical & memorable one with a visit from real Reindeer!
We spend lots of time with our reindeer and they are handled daily at the Willow Brook Reindeer Lodge so are used to lots of human contact and can quickly win the hearts of children and adult alike.
When out and about on reindeer hire visits our tame reindeer love to make lots of new friends, be hand fed their treats and have their photo taken in their festive head collars and harnesses. We are available for reindeer hire for Opening Parades, Christmas Light switch-ons, Fairs, Sleigh rides, Grotto visits, shopping centres, school visits, weddings, private functions and many more events. Our reindeer hire displays are available with 2,4,6,8 or more reindeer, each with their own experienced and well presented handlers or elf characters to ensure your event is an exciting and successful one.
Our Reindeer are available to hire from the end of October through to February and we hire reindeer to events throughout the North West and North Wales including Manchester, Liverpool, Lancashire, Cheshire, Shropshire, Leeds, Staffordshire, Birmingham and further a field.
Please contact our reindeer keepers to discuss your requirements.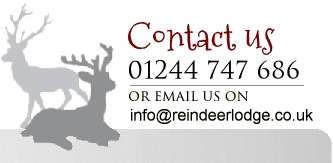 We provide all relevant display and movement licenses, risk assesments and public liability insurance for the reindeer visiting your event.
Animal Activity Licence England: 19/05315
Flintshire County Council Animal Registration: PAR019
T. Brisbourne - Willow Brook Reindeer